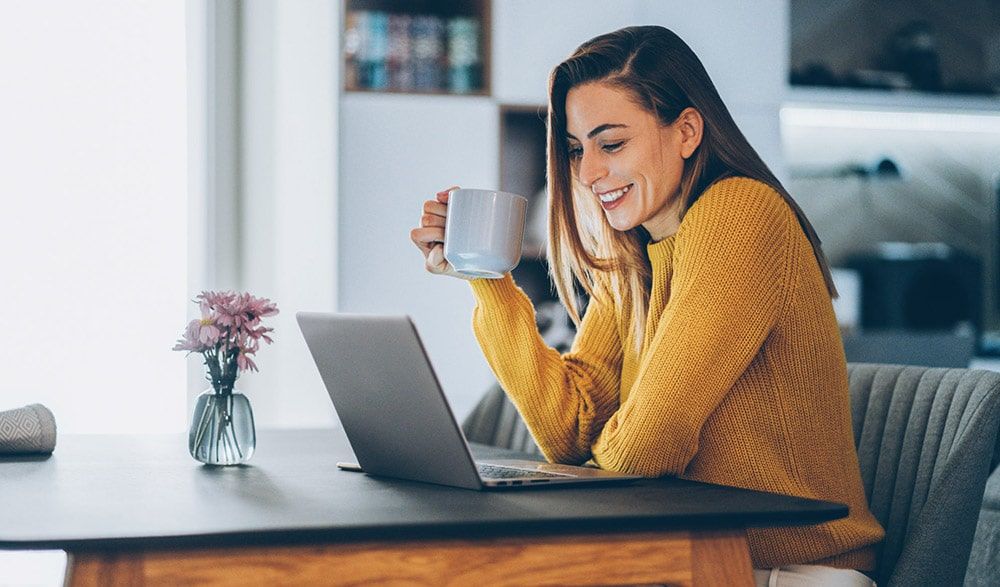 A methodology of attracting traffic by providing users with demanded content (inbound marketing) looks very attractive. This tool is budget-friendly and effective in the long term. However, not every kind of business is ready to interact with potential customers and give them entertaining, engaging, catching content.
How to bring B2B inbound marketing strategies to life? Can a huge marketplace use it to attract more buyers and how? Read below to know the answers and get more information on promoting a business using inbound tools.
What is inbound marketing: main facts
It's silly to repeat over and over that the internet changed business a lot. Just admit the fact that for many companies traditional methods of promotion (not mentioning other commercial aspects) don't work anymore, or don't allow to grow and develop. Modern ads consumers control what they want to see online, and it makes classic push notifications, cold calls, direct mails, and even targeted advertising too obstructive. This made inbound marketing solutions demanded and effective in the digital world.
Inbound marketing is a complex instrument whose aim is to build close relationships between prospects and companies with the help of professionally created content and encourage the first ones to make a purchase. The content needs to be useful and solve the real and current problems of potential customers.
By asking Google how to choose a gaming laptop, cleaning company, or a professional coffee machine, an average internet user can get on your company's site. He/she will get the answer, and most probably, if your content is engaging and diverse, register to get more. By receiving additional information, they are likely to remember you as a real professional in the branch and become a real customer.
Inbound marketing vs outbound marketing: the difference
Imagine you're watching a TV show and during the commercial break, you see all kinds of videos from different companies from diapers manufacturers to insurance agencies. You may not be interested, but still, you've watched the commercial, and the advertiser has spent a fortune on someone like you, who needs neither diapers nor an insurance policy. The same is with push notifications on sites or targeted ads online (despite that the last one is more objective at least) – we didn't ask for it, but we still see it.
On the other hand, an inbound marketing strategy is aimed at attracting only the most targeted users, providing them with solutions to their problems, building a relationship step by step, transform random users into leads, and then – loyal customers. It is possible with content that is spread through blogs, social media, eBooks, podcasts, video lessons, webinars.
Inbound marketing tactics work great in any market and may be successfully used for numerous companies. Let's see into the issue and figure out which inbound tactics may be used for different types of business.
Strategy tips for inbound marketing for B2B
Content is a working tool for every type of market. No matter whether your prospects buy metal, construction materials, or consulting services, 70% of their researches before buying is made on the internet. Today, most fabricators and service providers go online to attract regular B2B customers. And their process of making a purchase decision is not much different from this process in the B2C market. However, there is one distinctive feature – the key attention is paid to a company's expertise and its further service.
The corporate blog for B2B companies is so far the best way to attract leads, demonstrate their professionalism, and product's (or services) advantages. This tool is perfect to answer a variety of users' questions about your manufacturing and products. The more detailed and particularized your articles are, the more authority you get in your brach. But how to do blogging on B2B the right way?
What is the main problem? At the very first steps, it will be hard to struggle a temptation to write about your company, not the branch and industry in general. You have to remember that prospects are hardly interested in your company's shareholders and financial success. Potential customers in the B2B market need high-quality industrial products and first-class maintenance services. When you start building your inbound strategy and plan content, focus on this issue.
PRO tip. Let professionals of your company write about their products and services. No one knows about this better than them. Start blogging by providing the basics about your industry: materials, ways of production, methods of processing, characteristics, types of maintenance, etc. These are the first questions your prospects have when choosing the right supplier. To know more, you have to learn about your customers and know all of their concerns.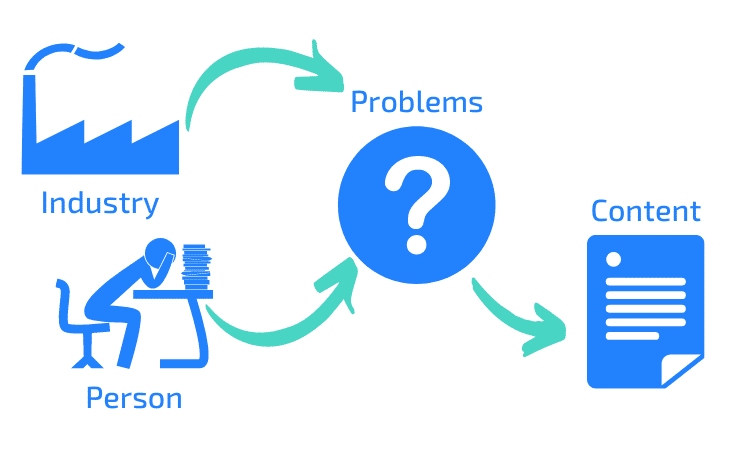 Finally, your site should be optimized for search engines. Be sure your resource includes landing pages to make leads, your blog posts are ranged in search engines by the most frequent queries. At this stage, you need to entrust your blog to an SEO specialist.
Inbound marketing for startups
Young entrepreneurs need to choose inbound marketing, probably, for one good reason – it's cost-effective. Besides other benefits like attracting targeted traffic, allowing users to interact with your company, this method is way less expensive. It is a nice strategy to get traffic and leads, transform them into clients with an inbound marketing funnel, and then attract more prospects with advertising, for instance.
The next advantage of inbound marketing for startups is the opportunity to teach your target audience: they need to know how your novelty works, how to use a product. Besides, by giving them more fascinating and trendy topics you provide more value that will help you stand out among other companies in the branch.
What is the main problem? Increasing your brand awareness, of course. It's not easy to make with blog posts only. Other types of evergreen content are educational videos, e-books, and guides. This free content will help your visitors to keep your startup in mind.
PRO tip. Never abandon your visitors, don't let them leave your site as they get there. From the very launch, take care of the optimization, add call-to-actions, create landing pages, subscribing forms. Transform them into leads by giving them more useful content and solving more of their problems.
Also, try to use influence marketing by making yourself an influencer! A great solution for new companies is to become more closer to your target audience with the help of a public person from your company. For example, let your marketing or public relations manager do a video blog or make cool stories on Instagram. Transparency and openness are the elements of new language which is clear to modern online users.
Inbound marketing strategy for SaaS companies
What are the key differences between buying a regular product online and a SaaS product? In the first case, your client may make a purchase only once, he can learn your competitors carefully and make a decision to buy in your store or order your service because of its features. In the second case with SaaS, the decision-making process is more complicated as well as the monetization strategy.
Though the sales funnel of the SaaS project may be longer, it still has much in common with the regular one. And inbound marketing is not an exception here. The owners and marketing managers of this business should attract users with content, engage them in interaction and sharing, and delight them with your support and professionalism. Excellent and objective content makes 99% of any SaaS company's success.
What is the main problem? The free trial may not be enough to focus a customer's attention. SaaS developers should work in a close connection to the content department or writers. Why? Articles, videos, infographics, guides, and other attractive content is a great addition to the main service because it:
profs your professionalism;
takes a users attention;
slowly integrates your product into a customer's everyday life.
PRO tip. Provide a user with the very best and delighting content you have during the period of a free trial. Integrate content blocks into your SaaS product in such a way so a customer would feel uncomfortable without your useful content. This also can work with mobile applications.
So, a few tricks with inbound strategies can increase your traffic and conquer thousands of regular paid users.
Is inbound marketing suitable for eCommerce?
Sure, it is, and today such companies simply can't do without content and SEO optimization. Besides, with the changes in buyers' behavior and the unstoppable growth of mobile devices, content may be almost the only budget-friendly way to attract prospective customers (mobile has been dominating in online purchases during recent years and will only prevail in the future).
Surely, this tendency requires attracting users with sophisticated content and top service. Besides classic blogging and search optimization which are crucial for any site today, we recommend using these inbound marketing examples in your eCommerce company:
Customers' content. Nothing works better in issues of getting a clients' trust than real comments and reviews of other customers. Moreover, you don't spend resources on filming unpackings or making more pictures of products. Finally, real reviews attract more organic traffic.
Social media. A great way to share your content, increase brand awareness and stay in touch with your prospects and current clients. Besides, nice social media profiles with appealing and useful content make it easier to set a successful paid campaign in the future. You have videos or infographics that your subscribers liked? Use these materials in a targeted ad for a similar audience.
Email marketing. This is one of the best tools for guiding a lead through your inbound marketing funnel. And not only leads take part in it: it's crucial to remind your clients about your products, inform them about discounts, provide them with exclusive bonuses. Furthermore, it will be useful to make engaging, informative newsletters to keep subscribers interested and maintain the image of a professional in your business field.
Live chat. Content is great for eCommerce, but what is more important is the support. Being responsive at any stage of the decision-making process is extremely important for online stores. Answer any questions of your visitors and held clients, or they can turn for support to another site.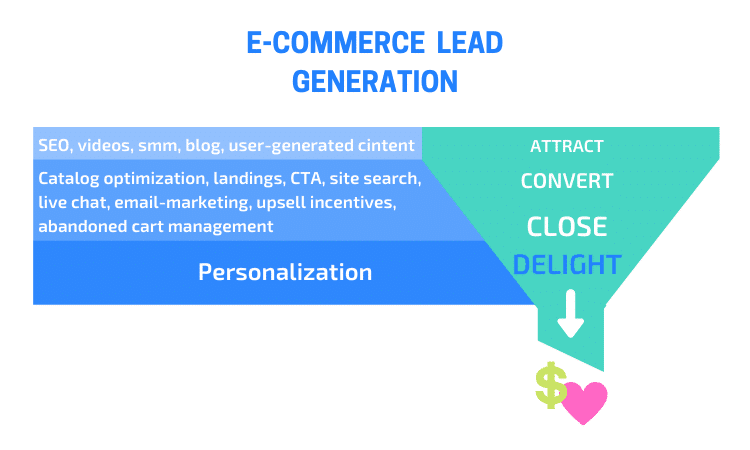 If these tactics are implemented along with prominent eCommerce marketing tools like upselling incentives and abandoned cart management, you will make sure users and clients will get a positive shopping experience for which they would like to come back in the future and recommend to friends.
Resume
Inbound marketing is not just blogging. It is not a part of content marketing either. The object of our article – is a strategic vision of attracting leads and holding customers. If you're not focused on your audience's needs and concerns, you may get traffic and sales, of course, but they are unlikely to become your fans and promoters. What you need to make your inbound strategy successful is to integrate your content with SEO, deep audience research, and sales funnel optimization. Become valuable to your visitors and support clients, otherwise, your competitors will.